Campus Dining Services offers a variety of quality choices to fit any schedule and please all palates. Our award-winning staff provides top-notch service across campus in inviting facilities. Our dining plans simplify and enhance campus life by saving time and money.
Our mission: Nourishing the Mizzou Spirit through good food – happy people – comfortable places.
Our vision: Our vision is to make a positive daily impact on each student's success and learning.
Being university-owned and operated, we care about our community and strive for the best Mizzou dining experience possible. This includes more than $1 million annually in purchases from Midwest farms and businesses, with a majority of those purchases from Missouri farmers and retailers, like Missouri Legacy Beef.
Not only do your purchases support local and regional-based businesses but they also support hundreds of student employees. The communication, decision-making and leadership skills they learn here help them succeed academically and professionally.
---
Campus Dining Services Director, Nancy Monteer
Campus Dining director Nancy Monteer has been with Mizzou since 1999. Nancy has served in many roles during her time with Campus Dining including residential dining manager, multi-unit dining manager and associate director before being named to the director role in 2018.
Nancy and her team oversee 26 different Campus Dining locations across campus that serve our students, faculty, staff and visitors. Campus Dining Services serves millions of meals over the course of an academic year.
Nancy is a proud Mizzou alum having earned her Master's in Higher Education at MU. Nancy is very involved in her professional organization (NACUFS) having served in regional and national roles including two terms as a member of the Board of Trustees.
In 2022, Nancy was named the Illuminating Excellence Award winner for the Education segment by Premier's Group Purchasing Organization. This national award acknowledges outstanding accomplishments by a Food Service Director.
Contact Nancy:
Email: MonteerN@missouri.edu | Phone: (573) 882-2932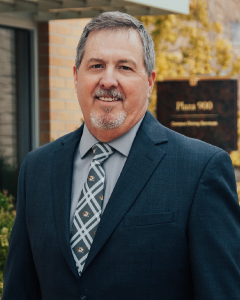 Interim Campus Dining Services Director, Don Jackson
Interim Campus Dining Services Director Don Jackson has more than 35 years' experience most recently in higher education food service leadership, as well as human resources and retail management in the private sector.
As interim director, Jackson oversees the management of 26 venues across campus with a total budget of more than $23.5 million. He started at Mizzou in May 2022 as associate director of Campus Dining Services and was named interim director on March 1. Before coming to Mizzou, Jackson worked for Vanderbilt University as assistant director for campus dining. He also held leadership roles in dining at the University of Texas at Austin and Ohio University.
Jackson, a Marshall, Mo., native, earned an associate degree at the University of Central Missouri in electronics/electricity.
Jackson serves the City of Columbia as a member of the Public Transit Advisory Committee. In his free time, he is an avid trout angler and golfer.
Contact Don:
Email: DJackson@missouri.edu | (573) 882-2248
---
Accessibility
MU is committed to making digital media accessible to all users and welcomes comments or suggestions on access improvements. If you have difficulty accessing any portions of this website with adaptive technology or because of a disability, please call 573-882-3663 or visit 900 Virginia Avenue for assistance.