By Akira Potts, junior, College of Arts and Science, Communications major and MU Internal Communications intern.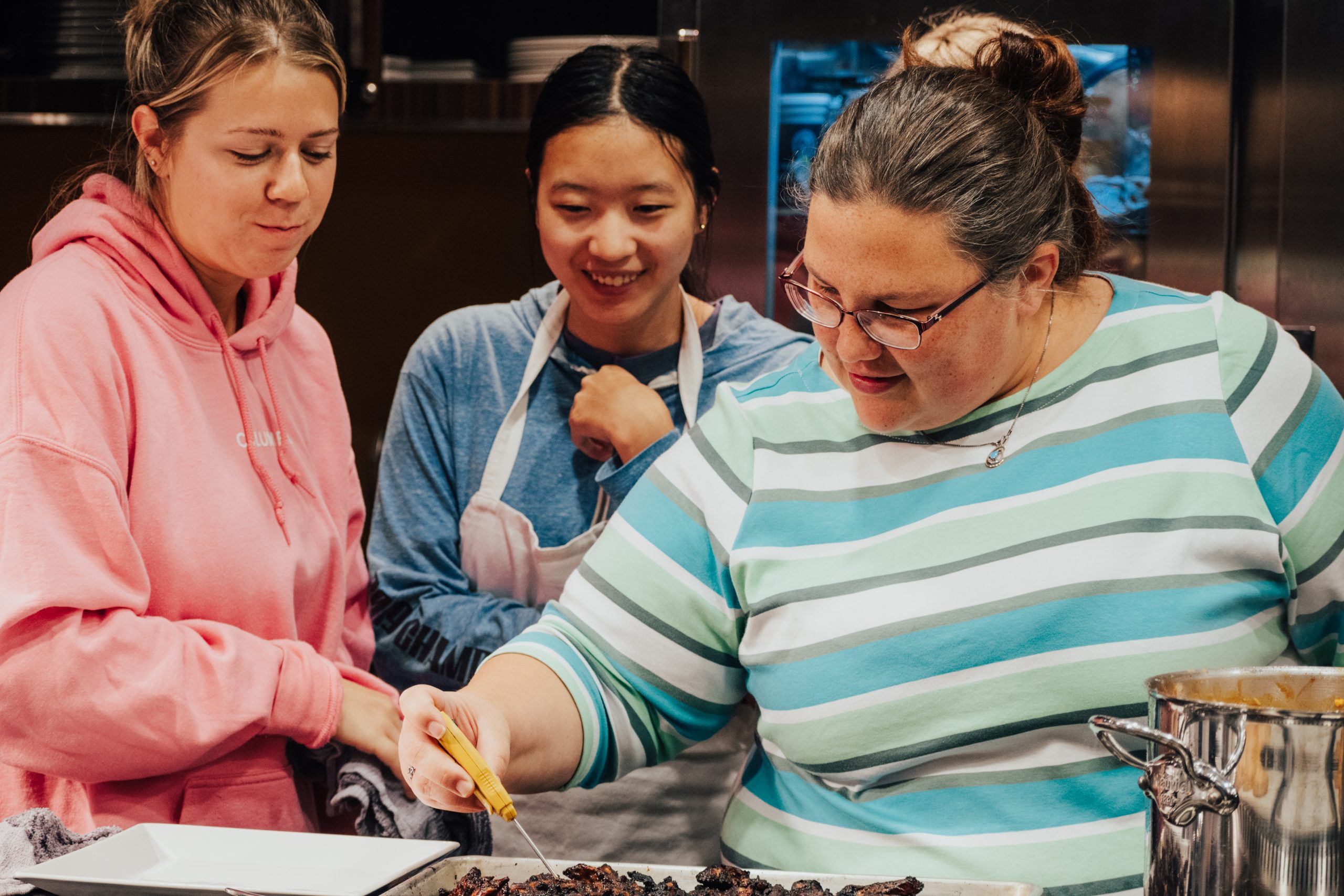 On a campus with more than 25 dining locations, including many themed restaurants, food has always been about more than just getting your next meal. For the students at the University of Missouri, dining on campus is an experience filled with traditions, camaraderie and education.
The Culinary Nutrition Series embodies these experiences and was first introduced to Mizzou's campus in the Fall of 2016. It was created with the intention of bridging the gap between the health and nutrition education offered on campus and how that knowledge can be implemented in the kitchen.
Over the past six years, the program has continued to evolve and grow as Campus Dining Services registered dietitian Kristen Hasan and executive chef Eric Cartwright work together to create new and inspiring dishes that emphasize the importance of healthy eating. Along with the professional staff, some of Mizzou's own students are given the opportunity to take part in planning the Nutrition Series. Hasan and Cartwright work with dietetics students at Mizzou to plan themes for each nutrition-focused cooking class. From 'Transport your Tastebuds', a class dedicated to teaching a healthy take on cuisines around the world, to 'Experience Vegan', a class focused on vegan recipes that are both fresh and delicious, the nutrition series has something to offer every student.
"The series aims to teach the importance of nutrition-focused cooking, so we feature new and fun recipes that will inspire healthy eating beyond the classroom," Hasan said.
Themes for this series can be as limited as working specifically with 'greens and grains' or as limitless as cuisines around the world. 'Mizzou, the Melting Pot' was a theme initially created by two dietetics students at Mizzou to celebrate the university's diverse student body and foods from their cultures. Students learned to make some traditional All-American foods and three different Asian cuisines including Indian, Chinese and Korean. Menu items included a bacon cheeseburger calzone, Indian butter chickpeas, vegetable fried rice and spicy Korean rice cakes.
"For the most part, recipes require basic appliances and ingredients that are easily accessible and inexpensive. They can all be easily replicated by students in a residence hall kitchen or in an off-campus apartment," Cartwright said.
Though the classes are small, with an average of 10-12 available seats, they are a hit among students. The smaller class sizes allow the Culinary Nutrition Series to remain intimate, where students of all skill levels can gain more hands-on experience in the kitchen and develop deeper relationships with both the teaching professionals and other students.
Created with students in mind, the series takes place in a central location on campus—the Culinary Development Kitchen, located in one of the university's dining locations. The program is offered to students living both on and off campus, and tickets to the event are extremely affordable, as they are purchased at discounted rates using Mizzou's student dining plans.
While the focus of the Nutrition Series is on teaching about the nutritious benefits and uses of various foods, it often features foods that appeal to students with a larger set of dietary restrictions. Although the class is not specific to students who live a vegan lifestyle, follow a strict Mediterranean diet, or have another type of specialty diet, some themes of the nutrition series are centered around just that. Hasan said changes also can be made to most featured dishes to accommodate students that may have certain allergies and specific food restrictions. This makes the series more appealing and inclusive to students with different eating practices and helps students learn how they can change or substitute different ingredients so the recipes will suit their dietary needs.
In the coming years, Hasan's goals for the Culinary Nutrition Series include creating themes and meals that appeal to the students of Mizzou as their interests change. In addition, Hasan and Cartwright will continue to create new recipes and update old ones to keep things fresh and interesting to find the best balance between food that is both nutritious and delicious.
Photography by Hanna Caldwell.